You are currently in preview mode.
ALASKA Cruises getting started
Beyond the limited May to September season booking Alaska is more "complicated" than a simple point and click destination. There are typically three distinct scenarios, each has its pro's and con's from required documents, time involved and naturally cost. Let me break it down. Usually the least expensive are Roundtrip Alaska cruises from Seattle which usually do not require passports and air fares are often less expensive. All other Alaska cruises require passports since most sail between Vancouver and Anchorage(Seward/Whittier) 7 day Alaska north or south bound cruises. Finally there multitude of combinations of cruise tours that can be added for seeing the interior of Alaska most commonly Fairbanks, Talkeetna, Denali, and Mt McKinley by motor coach and/or rail connections. Unlike ocean cruising Alaska is not place for MEGA ships visiting these small ports along the inside passage, you may even opt for one of the more adventure focused experiences, call me for details. You can easily investigate shore excursions thru our site as well.
Trust us to help you decide what's right for you at no additional cost.
PLEASE CALL for current discounts!
7 Day roundtrip cruises
Roundtrip Seattle

7 day one way cruises
passports required


Alaska cruisetours
passports required


2018 cruise & cruisetours to ALASKA are already on sale
It's not to early to plan now for best availability.

Call to learn about Un-Cruise small ship Alaska exlporations!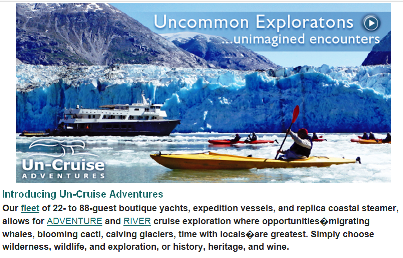 SEARCH for ALASKA Cruises and cruisetours at your leisure
Remember to call for most accurate pricing